About Me
Anaesthesiologist who believes in the healing power of love and laughter. Braggadocious Blogger.
Short stories published occasionally.
Extrovert around pet dogs, introvert around human beings. Not your regular doctor.
Trust me on that.
Hi. I am Dr Roshan Radhakrishnan and welcome to my Godyears.

Curious to know more about the blog's achievements?
Click here
.

Some of the Blog's Best Moments
Winner of the 'Best Creative Writing Blog in India'
at
WIN'14
, the Country's first Live Blogging Conference & Awards Ceremony.
Winner of Best Blog from Kerala at the Indian Blogging Awards 2017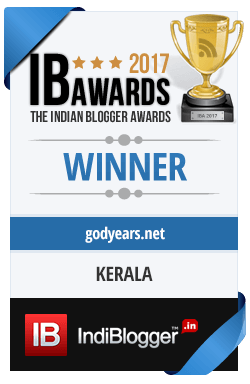 Choose A Topic and Enjoy...
personal moments
(162)
Movies Music Books Cars & TV
(143)
Controversial Topics
(108)
Heroes of Kindness
(91)
Motivational
(87)
medical
(86)
Funny
(75)
Kerala
(67)
Short Stories
(67)
Fun Lists
(56)
Food
(35)
Pets
(24)
Anaesthesia
(19)
Suicide Prevention
(5)